In the current competitive and digital context, watermarks have become a fundamental element for photographers who want to protect their images on the Net.
Watermarks are created especially to protect your work and to prevent images from being used without permission.
The watermarks also allow you to sign images and multimedia files that are shared on the Web.
This operation is similar to the process of affixing the signature on artistic works.
Applying a watermark requires time and knowledge of specific tools: it must be used WooCommerce Watermark Plugin.
Watermark: what is it?
Initially the watermark was a sort of transparent or semi-transparent signature stamp applied on paper and photos to validate its originality.
The main objective is to protect the original of a document (both textual and photographic) and make copying more complex or impossible.
The watermark is a kind of signature that can be applied to your photos to certify their originality and make theft impossible.
As with the analogue watermark, digital watermarking is transparent or semi-transparent depending on the intentions of the author.
To protect your images, you need to add the watermark in a central and visible position.
In case you do not want to "ruin" the shot just place the watermark in a strategic position, but with less marked visibility.
However, be careful that in the case of lossy compression, it may happen that the watermark fades or disappears.
For this the digital watermark must be visible and solid.
Let's find out more in this guide where to place the watermarks.
Watermark in a strategic point of the image
An effective watermark is a watermark that should not go unnoticed.
For this reason, it is good advice to opt for a watermark with your trade name or an identifying sign.
The objective is twofold:
protect the photograph from fraudulent copies,
know the belonging of the image.
These watermarks are robust, more "intrusive" and more attractive. It is difficult to eliminate them.
Transparent but effective watermarks
To avoid the "invasion" of the watermarks described above, transparent watermarks can be used.
The faded watermarks in the background and with a low opacity allow you to protect your images without creating discomfort.
They are effective and during the modification operation, it is practically impossible to eliminate them.
Repetitive watermarks
If you want to affix a really effective watermark to a photo, choose the one that is distributed several times on the image.
Even if rather "invasive" this type of watermark makes you lose clarity when viewing the image.
The main advantage is that the security gain of the original photo.
XXL size watermark
If you want to highlight your logo or commercial brand, the best strategy is to opt for a large watermark.
The XXL watermark helps you protect photographs.
Watermark with the commercial signature
Do you want to give a touch of bon ton to your image gallery?
Opt for a watermark with a commercial signature, which is very fashionable in recent times.
Such a watermark protects your images from fraudulent copies.
Watermark with company logo
Want to stand out from the competition?
Create added value and gain a business competitive advantage.
Use a custom watermark that includes the logo that represents your brand.
Focus on brand effectiveness and corporate reputation.
Both for the dimensions and for the positioning, the watermark shows in evidence the belonging of its images.
Watermarking schemes: classification
There are various watermark classification schemes.
Let's analyze them below to get a holistic knowledge.
Watermark perceptible or imperceptible
A watermark can be perceptible or imperceptible. In the first case, it is used to encode the information that must be made public to the end user
The imperceptible watermark is used when the owner wants to hide the brand in the image. In this case, the marked copy of the image is almost identical to the original.
Fragile or robust watermark
A watermarking scheme can be fragile or robust.
Fragile watermarks can easily be destroyed or rendered unrecognizable by any kind of lawful data manipulation.
Robust watermarks must withstand transformations on data and when it is able to withstand even malicious attacks, aimed at removing the watermark.
In recent years the schemes that seemed to be more robust and promising showed their limits as soon as they were subjected to intentional attacks.
How to build a successful brand: useful tips
To build a successful branding process, it's a good idea to add a watermark to your photos and images.
In digital marketing, the brand is the "tip of the iceberg", which allows it to be recognized by customers.
A custom watermark highlights your brand and smarter photographers make sure that every logo on the images is consistent and effective.
To be really effective, a watermark should be minimal and elegant.
Furthermore, we must also pay close attention to colors, the choice of fonts and iconography.
Avoid being able to distract the viewer from the image.
Create something clean, classic and readable.
If you want to bring traffic to your blog or E-Store, create a sophisticated and impactful watermark.
Build your successful brand.
Choose WooCommerce Watermark Plugin.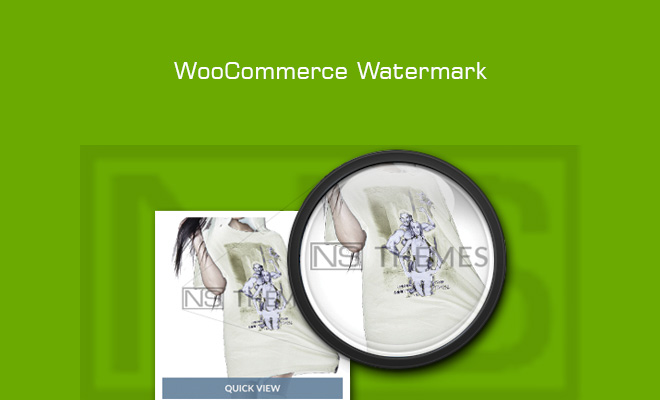 WooCommerce Watermark Plugin
This plugin works perfectly with new and existing product image.
Choose watermark png, jpg or gif from your local folder or from media library.
You can enable or disable watermark on the images without any problems.
You can activate this plugin without overwrite the existing images.
Apply your watermark on your WooCommerce products image:
you can choose the watermark position
you can add a margin to your watermark
you can repeat a watermark
you can add background layer to watermark
you can hoose background watermark color
you can choose background watermark opacity
you can add a colored layer in all photo
you can choose background layer color
you can choose background layer opacity
you can add a different watermark image for only thumbnail images.
Do you want to receive more information about this plugin?
Contact us and you will find a valid answer to all your doubts. We are waiting for you!